The Only Free Modern Enterprise Data and Analytics Platform
"Nowadays, enterprise-grade self-service analytics should be free for all –
in this regard, DataClarity is truly making a difference for thousands around the world"
The Only Free Modern Enterprise Data and Analytics Platform
"Nowadays, enterprise-grade self-service analytics should be free for all –
in this regard, DataClarity is truly making a difference for thousands around the world"
Embedded Analytics
Enhancing your applications with modern self-service analytics is imperative to grow the value delivered to your customers and stakeholders. With embedded analytics from DataClarity you can integrate, customize, and deploy within weeks without coding a seamless and complete analytics experience.
Simplified data access, streamlined data preparation
Empower your business users to deliver trusted data at scale, prepare it intuitively, and get to analysis faster and with more confidence.
Watch the how-to video (1 min)
Connect to all your data
Real-time access to your data from anywhere, including databases, spreadsheets, text files, cubes, big data, or cloud apps.
Watch the how-to video (2 min)
Connect to more than 100 data source types including AWS, SAP, Oracle, SQL Server, Excel, and many more.
See all data sources and connectors
Instantly combine your data
Get your data ready for analysis by combining multiple sources and types without writing a single line of code. Use drag-and-drop simplicity to automatically join the data together, for a unified view of your data across the entire organization.
Watch the how-to video (5 min)
Easily perform complex analysis
Filter your data across multiple data sources, add custom filters, and use simple or complex conditions to get immediate results.
Watch the how-to video (2 min)
Add calculations and fields on the fly to express your data in different ways.
Watch the how-to video (2.5 min)
Better understand your data
By providing data cataloging capabilities, DataClarity facilitates the discovery, exploration, and utilization of metadata across your organization. You can search data sources and datasets, use data annotations and tagging, trace lineage in datasets, assess usage statistics, review security access information, and curate your data.
Fast query performance across all data sources
Maximize performance with smart query results caching, dataset extracts, and metadata caching. By leveraging in-memory and columnar data storage, you can benefit from faster response times, enhanced scalability, and accelerated analytics, all while maintaining the accuracy and reliability of your data.
Watch the how-to video (2 min)
Seamless end-to-end analytics platform
Empower everyone in your organization with modern web-based self-service modeling, limitless data exploration, and advanced analytics by leveraging over 80 stunning interactive graphical, tabular, and geospatial visualizations.
Watch the video (2 min)
Fully-customizable geospatial visualizations
Make your analytics more intuitive with our built-in map engine. Create stunning geospatial visualizations with a few clicks, and without dependency on expensive mapping services. Maps can be fully customized based on the GeoJSON standard and offer a rich set of capabilities including user-definable palettes, zoom controls, legends, and more.
Watch the how-to video (2.5 min)
Interactive storyboards
Easily create compelling data-driven pixel perfect storyboards using an extensive library of visualizations, graphics, analytics, and web or cloud-based content to make your data more actionable.
View the Viz Gallery
Custom data visualizations
With DataClarity Custom Viz widget can you create custom data visualizations using JavaScript libraries such as D3 and jQuery. Test your custom visualizations on the fly, publish, and share them with others within or outside your organization.
Built-in Data Science
Empower everyone in your organization with predictive analytic insights for smarter decision-making. Analysts and business users can perform complex data analysis using advanced calculations, statistical functions, and built-in models while data scientists can leverage their own R and Python code.
Watch the how-to video (3 min)
Built-In User Access Management
Built-in local user identity and authentication capability enables you to create and manage users, roles, groups, and permissions. Advanced settings for password policies, expiration, auto-registration, and e-mail notifications allow administrators to fully tailor the system and user experience.
Integration with Active Directory and LDAP
DataClarity enables enterprise organizations to leverage their existing Active Directory infrastructure and provision current users and groups, including assignments of permissions and roles.
Single Sign-On and Social Media Login
DataClarity allows organizations to easily enable login with social networks, no coding required. By leveraging the identity brokering capability, you can authenticate your users with existing OpenID Connect or SAML Identity Providers. This can be done with just a few clicks, by configuring the DataClarity SSO for standard protocols.
Session Monitoring, Audit and Reporting
To improve governance and compliance, administrators can centrally monitor all user sessions and access audit reports based on user activity.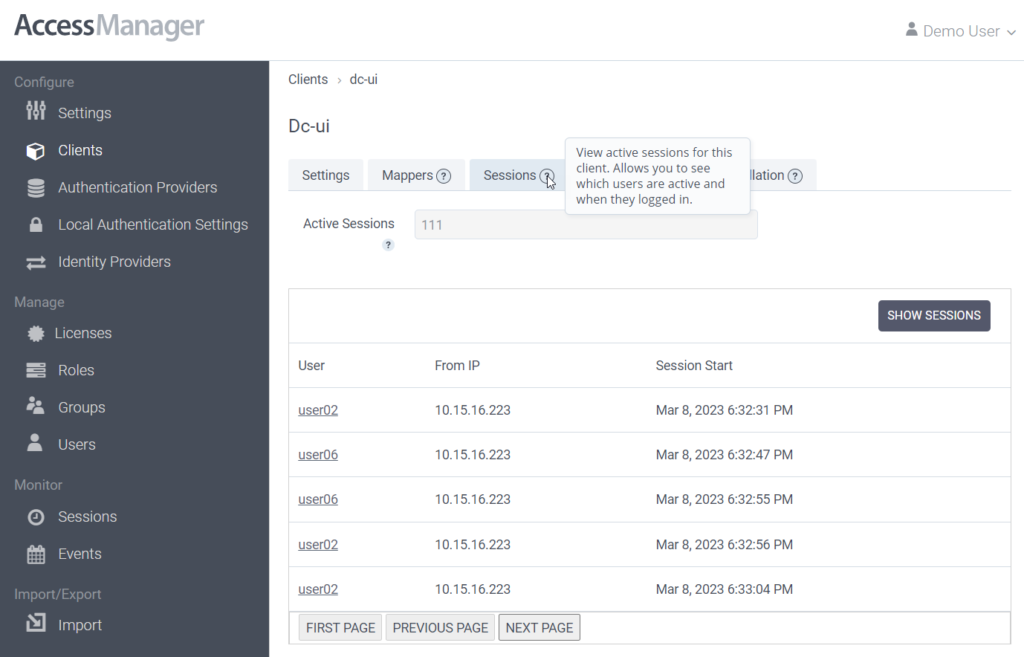 Distributed cluster and cloud-ready architecture
The modular platform architecture is designed for high availability, supports container-based deployment, elasticity, auto scaling, and management across on-premise, public cloud, and hybrid infrastructure utilizing Docker and Kubernetes technology.
The out-of-the box support for multi-tenant deployments and provisioning, enables you to host multiple organizations or customers (tenants) data and content on a DataClarity single server instance, while keeping their data and list of users totally separate and fully secure.
When to consider embedded analytics from DataClarity?
Need True Self-Service
Ease of use is essential to providing the self-service that customers expect from modern analytics. To truly derive value, analytics must be accessible to users across the organization regardless of their technical proficiency or skills. By leveraging fully customizable, true self-service analytics, you can empower everyone in your organization to quickly connect to data, and easily build their own dashboards.
Avoid Roadmap Disruption
A consistent and reliable API is crucial to ensure seamless integration with existing apps, minimize functional gaps, and increase compatibility with your products. By leveraging an extensible platform, you can proactively adapt and scale your analytics capabilities as your business needs to evolve, without disrupting your roadmap, sacrificing operational efficiency, or jeopardizing resource stability.
Lack of Data Integration
By embbeding an analytics platform with built-in data integration and enhanced security, you can overcome most challenges resulting from consolidating disparate data sources. Additionally, with seamless data curation capabilities you gain the ability to prepare and refine your data for analysis effortlessly, ensure data integrity and accuracy, and deliver better insights faster.
DataClarity is purpose-built for OEM or embed applications
Integrate, customize, and deploy in weeks not months
Modern multi-tenant cloud architecture runs anywhere
Complete OEM solution provides everything needed
Inherits existing application security and authentication
Modular and easily configurable for any use case
Why OEM or embed DataClarity in your product or application?
Free Forever Analytics
DataClarity is the only end-to-end embeddable analytics platform that comes completely free. It provides seamless governance and scalability, adapting effortlessly to any requirement, be it infrastructure, unlimited users, or multiple organizations or customers.
No Need to Build or Buy
With DataClarity, you don't need to choose! Embed within weeks and realize the benefits of a complete integrated solution featuring quarterly software updates, and any time later become completely independent with your own team leveraging the free forever software.
Full White Label
Create a fully custom, white-labeled analytics experience that visually aligns with your app's branding standards, style, and colors. Tailor the key UI elements, logo, copyright label, footer, links, toolbar, sidebar, background and font colors, to match the desired look and feel.
Flexible Integration and Extensibility
Choose to integrate without coding using standalone, inline frame, and fully-embedded methods. Perform the most advanced integration and automation techniques using our documented set of Swagger-enabled REST API endpoints or track lineage and manage your data with the Metadata API.
Deploy Anywhere, Scale Infinitely
With DataClarity, you have the flexibility to deploy on-premises, on the cloud, or in a hybrid environment, and easily scale to meet user expectations. The platform's highly-scalable and cloud-ready architecture seamlessly integrates with your infrastructure, application, data, and security, regardless of the deployment type.
Robust Enterprise Security and SSO
Leverage your existing SSO using SAML, OpenID Connect, Active Directory, LDAP, or external authentication providers. Enable everyone inside and outside the organization to create and access trusted data and dashboards while fulfilling enterprise security requirements.
---
The world's only free modern enterprise analytics platform
Now more than ever, people and organizations alike need access to data and intuitive analytics to make better decisions. With DataClarity Unlimited Analytics, we empower everyone with scalable and governed end-to-end analytics that fit any enterprise architecture.
Don't take our word for it. See it for yourself!